Creative Writing Tools
A successful writer needs to consider what Creative Writing tools will be helpful to their writing process to enable them to become even more creative and productive.
Here is a list of the types of creative tools that you, the writer, can use to make your writing process more manageable.
Brainstorming Tools to help you brainstorm ideas.
Design Tools to generate graphics related to your book.
Word Generating Tools to help jump-start your brain by giving you names, titles, and writing prompts.
Language Checking Tools to help with poor grammar.
Mind Mapping Tools to help alleviate writer's block.
Optimization Tools to help you focus your marketing efforts on a particular audience.
Project Management Tools to keep you on track of what you've completed and what you need to do.
Surveys Tools for those who want to know the thoughts of their target readers.
Time Tracking Tools to help maximize your time spent on a task.
Transcription Tools when you need to transcribe an audio or video into text.
Writing Software Tools that is distraction-free that allow for ease of writing.
Remember, the main purpose of choosing a Creative Writing tool is to help you be more productive and organized and save time and produce more ideas and quality results. If you don't use them correctly, they are not as effective as you expect. Also, another tip is to choose tools that are easy to use and have very few learning curves.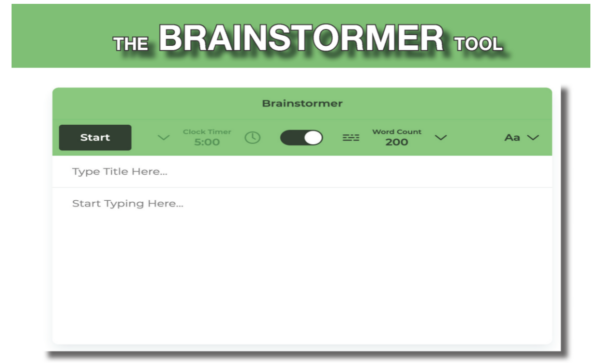 The Brainstormer Book Writing Tool
Specifically designed to expand your ideas using the Freewriting Method/Automatic Writing technique. Use it to Speed Write to improve your creative writing.
Read More