This is a sampling of the content in M1-S103 – How to use a Ghostwriter Effectively
How to NEGOTIATE YOUR OPTIONS in a Ghostwriter Agreement
The ability to assist a writer in gathering and shaping their ideas into a coherent message is a skill that comes from the ancient and honourable profession of ghostwriting. To assist you in producing certain content, you may hire a ghostwriter. A wordsmith with expertise in their field can assist you with a variety of duties. If you lack the skills or the time to write a book on your own, you can engage a ghostwriter to do it for you.
The main objective of this lesson is to highlight the types of options you might want to consider as part of your Ghostwriter Agreement. The information provided is not intended to be legal advice; rather, it is intended to encourage you to consider speaking with an intellectual property solicitor or attorney because doing so could end up saving you a lot of money if you later need to settle a dispute.
HANDOUT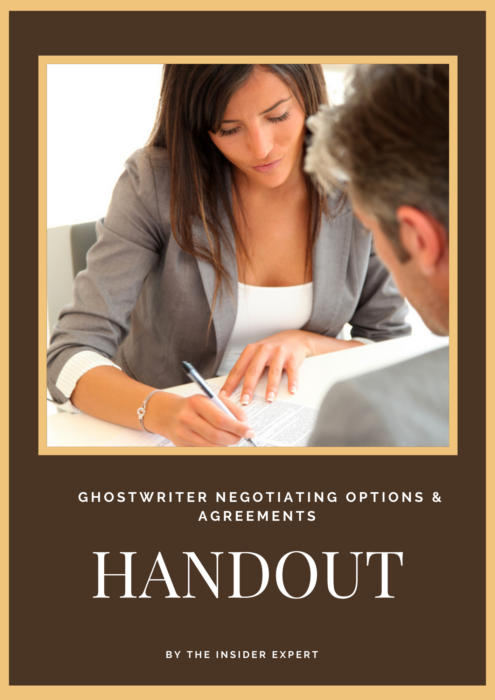 Handout Instructions
STEP 1. Click the "Download Your PDF Handout Button." It will redirect you to a new page where you can click the download icon to save this PDF Handout to your computer. Create a folder specifically for saving your ideas and save your PDF template in it.
STEP 2. Open the downloaded PDF handout in a PDF viewer
STEP 3. Save your files in your handout's ideas computer folder so you can refer to them again and again.
WANT MORE
Do you want to learn more now that you've tried the sampling? Do you want to learn something new and discover more techniques to evaluate a Ghost-Writer or a Co-Authoring service and what is considered a reasonable fee?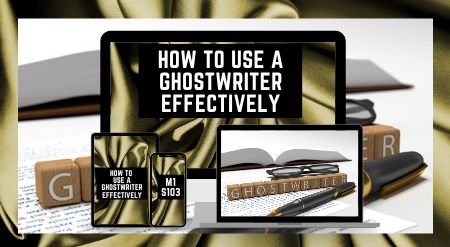 M1-S103 How To Use a Ghostwriter Effectively
This option may be right for you if you want a more focused learning experience. This course will teach you how to hire the right ghostwriter or co-authoring service for your book to avoid ownership and intellectual property rights disputes. One of the significant drawbacks of Ghost-Writing is that there is no defined process, and every Ghost-Writer does it their way. This is why knowing what's important and what's not should be mandatory. With 10 lessons, you'll have the opportunity to learn at your own pace and review the material as many times as you need to fully understand the concepts.
If you buy this course, you'll be well on your way to acquiring new skills and knowledge in no time!